Spunshades is an innovative product from Birla Cellulose, a coloured fibre that is created using the latest Colour Lock Technology. This, globally recognized product holds a market share of 55% and is available in a scientific shade palette of 74 colours, ensuring ready availability across key shades. Spunshades is commonly used in the suiting and uniform segments, where it has gained popularity due to its numerous benefits.
One of the primary benefits of Birla Spunshades Viscose is its exceptional comfort. The fabric is incredibly soft and gentle on the skin, making it an excellent choice for uniforms and trousers. Moreover, it is highly breathable, which helps to keep the wearer cool and comfortable even in warm weather. Spunshades is OEKO-TEX ® 100 certified, which means it is safe and suitable for even the most delicate skin.
Birla Spunshade is also highly durable, and it can be blended with other fibres such as cotton or polyester to enhance its performance. This versatile fabric can be used to create a wide range of trouser styles and designs, and it can be dyed in a variety of colours. Moreover, it has superior spun dyed technology with an injection of pigments into the core of the fibre, which ensures that the colour stays vibrant and does not fade quickly.
Another benefit of Birla Spunshades Viscose is its ease of care. It is machine washable and can be tumble-dried without losing its shape or texture. This makes it a low-maintenance option for trousers that can be worn regularly. Additionally, it is a sustainable fabric made from renewable sources such as wood pulp from responsibly managed forests. The manufacturing process also uses closed-loop technology, which minimizes waste and reduces environmental impact.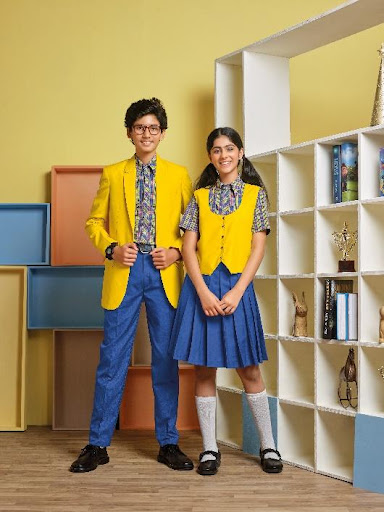 To promote Spunshades in the Uniform segment, Birla Cellulose has established alliances with 60+ value chain partners from Bhilwara and Mumbai. Birla Cellulose's team works closely with 40+ wholesalers pan India to expand its reach. The team is also collaborating with two fabric partners, Valji Uniforms and Sangam, to create products in the Uniform segment such as Matty (2/18s Spunshades Viscose blend x 2/18s Spunshades Viscose blend) and Trovine (2/30s Spunshades Viscose blend x 2/30s Spunshades Viscose blend).
Birla Cellulose has conducted seven Wholesaler Conferences and one hub meet at Bhilwara to showcase its products.
The Bhilwara Hub meet witnessed an impressive gathering of over 180 customers from 150+ companies, representing various segments of the textile industry, such as composite mills, weavers, fabric brands, master designers, spinners, and processors. The event featured several eminent speakers, including Manmohan Singh, CMO Birla Cellulose, Suraj Bahirwani, President – Fibre Marketing, Birla Cellulose, Anjani Prasad from Archroma, and Kishore Kothari from Valji Uniforms, who shared their valuable insights on different aspects related to the textile industry.
Furthermore, the Spunshades product zone, a highlight of the event, showcased more than 50 Spunshades fabric colours, fiber displays, and application garment displays, providing the attendees with an immersive experience of the innovative product. The discussions revolved around the remarkable growth story and sustainability of Spunshades, the brand's connect with customers, the eco-enhanced features of Spunshades, and the brand's global footprints of sustainability.
Overall, the event served as a platform for the textile industry's stakeholders to exchange their views, share their knowledge, and showcase their products and services. With the participation of a diverse range of industry players, the event highlighted the growing significance of sustainable textiles and Spunshades' position as a frontrunner in this field.